Your holiday and hibernate in Punta Prima
Punta Prima
Punta Prima is the southeast part of the municipality of Orihuela Costa but also belongs to Torrevieja for a large part. Orihuela Costa is again part of the municipality of Orihuela and is located in the province of Alicante. Alicante is again located in the Spanish autonomous region of Valencia. Punta Prima, at the beginning of the Orihuela Costa, is located 3 kilometers south and from the center of Torrevieja and is a great place to spend your vacation. If you come by private transport, the distance from Amsterdam to Punta Prima is 2165 kilometers. If you come by plane then it is 45 kilometers from Alicante airport.
In 2017 Punta Prima had more than 3.000 inhabitants. Punta Prima also signifies the beach of the neighborhood. The same-named white sandy beach of Punta Prima lies the most northerly in a series of six beaches in the municipality of Orihuela Costa. The beach is bordered to the north by the most southern beach Playa De Los Náufragos of the city of Torrevieja In the south by the beach Playa Flamenca. It has a length of 170 meters and a width of 14 meters. The beach is accessible via slopes and stairs. From July 2010 Punta Prima has a lift. The lift bridges a height of 7 meters. Punta Prima is the only beach in the province of Alicante which has a lift to the beach. There is also a beach watch tower in the summer, a cabana, a first aid post and a parking lot.
Punta Prima is bordered to the north by the Rocío Del Mar in Torrevieja, La Campana in the west and Alameda Del Mar in the south. In the east Punta Prima is bordered by the Mediterranean Sea. The southern most suburbs of the port city of Torrevieja are just a stone's throw north of Punta Prima. Punta Prima is located south of the N-332 motorway which is parallel to the Spanish east coast.
Holidays
Be surprised and come to Punta Prima. See yourself in one of our resorts on your spacious, covered and sunny balcony or roof terrace. You enjoy a delicious cool drink and you lurk over the blue Mediterranean sea to dream away from the sun, sea, beach and entertainment within walking distance. You can enjoy this sunny spot all year round on the Costa Blanca south. The relatively young parks look mature with beautiful sub-tropical gardens. Here you experience the ultimate Mediterriane feeling surrounded by palm trees, bougainvilleas, olive trees, oleanders and more beautiful and blooming vegetation.
View here our offers in Punta Prima
Surroundings
During your stay in one of our luxury apartments you can choose to relax on your balcony or by the pool or a more active holiday where there is plenty to do in the near vicinity. Within walking distance are several different restaurants and if you want to prepare something you can get delicious fresh vegetables, fish and meat at the many supermarkets. The kitchen of your apartment is fully equipped to prepare a delicious Spanish dish at home such as a multi-functional oven and a stove.
Of course you can also enjoy a drink, tasty tapas, the blue sea, the beach and each other on the beach at the bar of each Cabana.
Within walking distance of your apartment you can reach the Punta Prima restaurant within 5 to 15 minutes with a boulevard in front. From here you have a beautiful view over the bay and a beautiful view of the bay of Cabo Roig. With clear weather you can even see Mar Menor at 60 kilometers from here. If you want to go a little further, you can take your rental car and go to the beaches of Campoamor, La Zenia, Cabo Roig and Playa Flamenga. These beaches are all within a maximum of 4 kilometers from Punta Prima. La Zenia beach is a 30 minutes walk away. Via the beach and hiking trails you can also walk to the center of Torrevieja.
Vacation rentals
Our apartments provide a good basis for a successful holiday. We have more then 60 very complete apartments. The apartments from 65 m2 have 1 or 2 bedrooms and 1 or 2 bathrooms. All are equipped with a fully equipped kitchen with all appliances. The bathrooms have bath and / or shower, there are at least 4 beds with linen, a washer / dryer, sattelite TV with International channels and air-conditioning. For families with young children it is an ideal place to go on holiday. The swimming pools are child-friendly and there are no overcrowded beaches.There is also a cot and child seat for rent if necessary.
All apartments have a covered terrace, solarium or balcony of at least 12 m2 with terrace furniture. The apartments have views over the swimming pools and / or the subtropical park and / or a beautiful sea view. The apartments are all fully equipped with beautiful and luxurious furniture. The apartments have ample storage space in the bedrooms. The owners of these holiday homes have paid a great deal of attention to their property and, like us, want you as a holiday maker that nothing may be missing.
All apartments are equipped with terracotta tiles, ceramic or marble floors and some with underfloor heating in the bathrooms. There are PVC windows with double glazing and blinds, alarm and at some resorts there is surveillance 24 hours a day through guards and cameras. All apartments are accessible from a private parking space by elevator or by stairs. There are also a number of apartments that have a private storage room.
Hibernate
For the winter visitors we only reserve apartments on the south. In the winter is plenty of sun on the balcony or solarium to enjoy. It is therefore very worthwhile to inquire about our winter offers without obligation. From November until March a few swimming pools are heated. The luxury of the Panorama Park, La Entrada, Oasis Beach Punta Prima phase 7, 8 and 9, Sea Senses and Resort La Recoleta, the heating in the apartments for the winter and of course the healthy climate make this location very very attractive to overwinter.
Activities and going out
During your holiday in Punta Prima there are various possibilities to give your stay an interpretation. You can think of water sports such as water skiing, fishing, rent-a-rib, parasailing, snorkeling and diving. Furthermore, there are opportunities in the vicinity to rent a mountain bike or go horseback riding and explore the inland. For the walkers there are beautiful routes along the rugged coast of the Orihuela Costa and for the younger vacationers a water park at Torrevieja, a mini fair at the Centro Commercial and a go-kart track less than 1 kilometer away. You can visit one of the many weekly markets every day in the surrounding towns within a radius of 10 kilometers. One of the biggest markets of the Costa Blanca is the Friday market of Torrevieja.
Your holiday can be combined with Spanish language courses and visits to museums in Orihuela, Murcia and Alicante. Go eat Spanish tapas with a local Vino de Mesa in one of the many restaurants in the interior.
There are many places worth visiting. Such as Elche with its beautiful date palmenpark and old town. Alicante with its long boulevard and old stately buildings and a day of Benidorm can not be missed. Around Benidorm are also several theme parks for children such as Mundomar with many animals, dolphin and seal shows.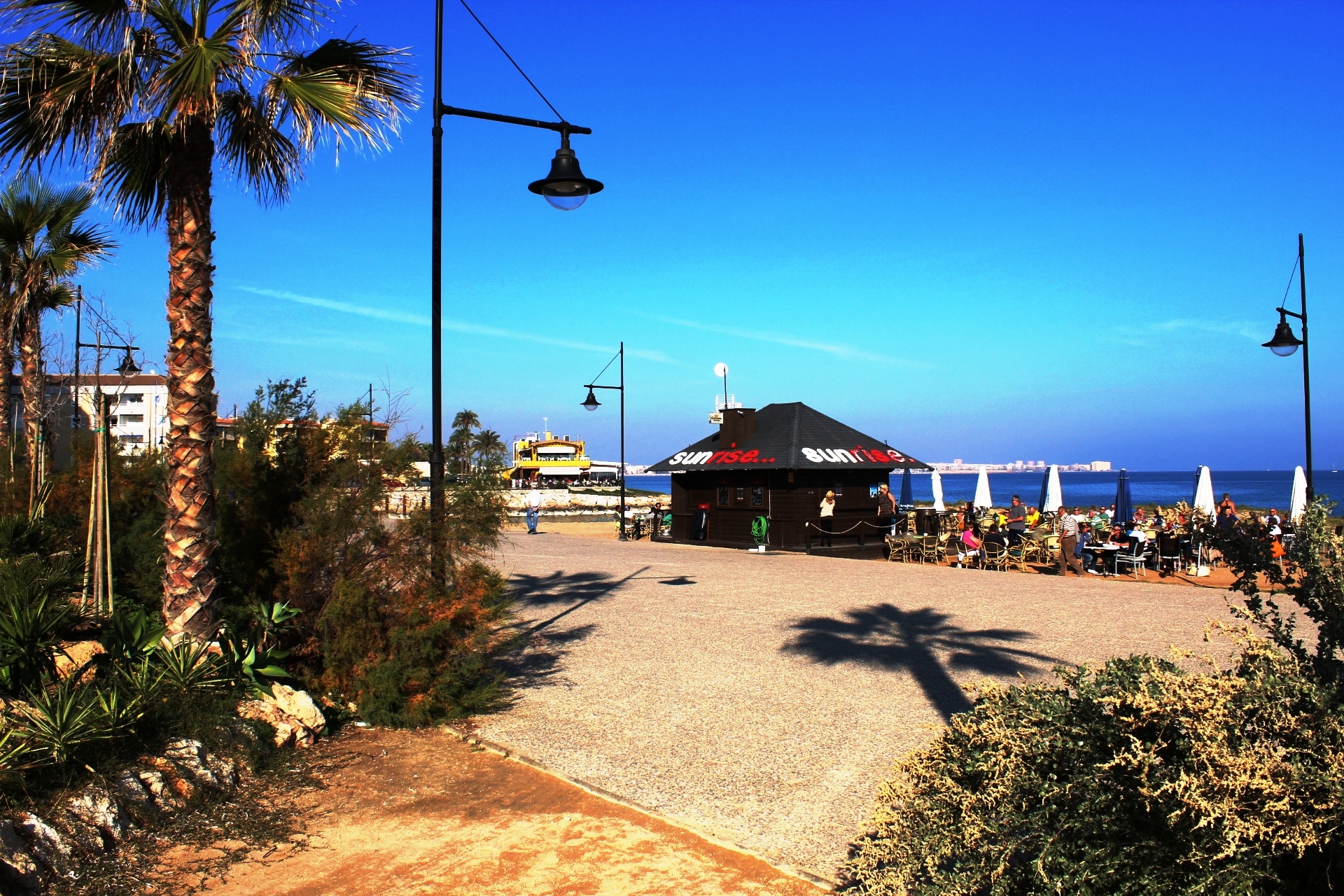 Come to Punta Prima for a stunning holiday or to hibernate.