Oasis beach El Raso
Oasis Beach El raso ligt in de gemeente Guardamar. Guardamar del Segura heeft een ca. 15 km lange uitgestrekte kuststrook met heerlijk fijne zandstranden. De meest bezochte stranden zijn Playa Centro of het Playa La Roqueta. Wie de voorkeur geeft aan verlaten stranden, komt aan zijn trekken op het Playa del Moncayo of het Playa de Los Tusales, aan de monding van de Segura. Alle stranden zijn perfect uitgerust en voorzien van de benodigde faciliteiten. Daarnaast kent Guardamar 2 gezellige wekelijkse markten, één in het centrum en een in Guardamar Campo. De feestelijke markt Campo de Guardamar ligt in het binnenland en niet ver van de kust. Een markt die wij als Noord-Europeanen als een braderie zouden typeren.
Residentie
Het complex is omheind en er is een ondergrondse parkeergarage. Dit is absoluut een geweldige plek om te zijn. Ideaal voor een kort verblijf tijdens uw vakantie en voor een langdurig verblijf in de winter met de juiste faciliteiten en de hele dag zon op het terras. Park Oasis Beach El Raso beschikt over prachtige gemeenschappelijke ruimtes met tuin, gemeenschappelijk zwembad, indoor jacuzzi, spa, outdoor fitness, een speeltuin voor de kinderen en petanquebanen. Dit complex is een van de nieuwste, meest aantrekkelijke woonwijken in Guardamar, op slechts 10 minuten rijden van het strand van Moncayo. Alle voorzieningen verwacht in een modern vakantieoord en een breed scala aan winkels, bars, restaurants en supermarkten, allemaal op loopafstand.
Appartementen
Nagenoeg alle appartementen zijn voorzien van 2 slaapkamers met inbouwkasten, 2 badkamers met douchevoorzieningen of één ligbad, een privé parkeerplaats op het afgesloten terrein of in de parkeergarage, een woonkamer met een smaakvolle en moderne inrichting, air-conditioning en satteliet TV. Het aanbod aan zenders is afhankelijk van de nationaliteit van de eigenaar maar steeds meer eigenaren stappen over op IP TV.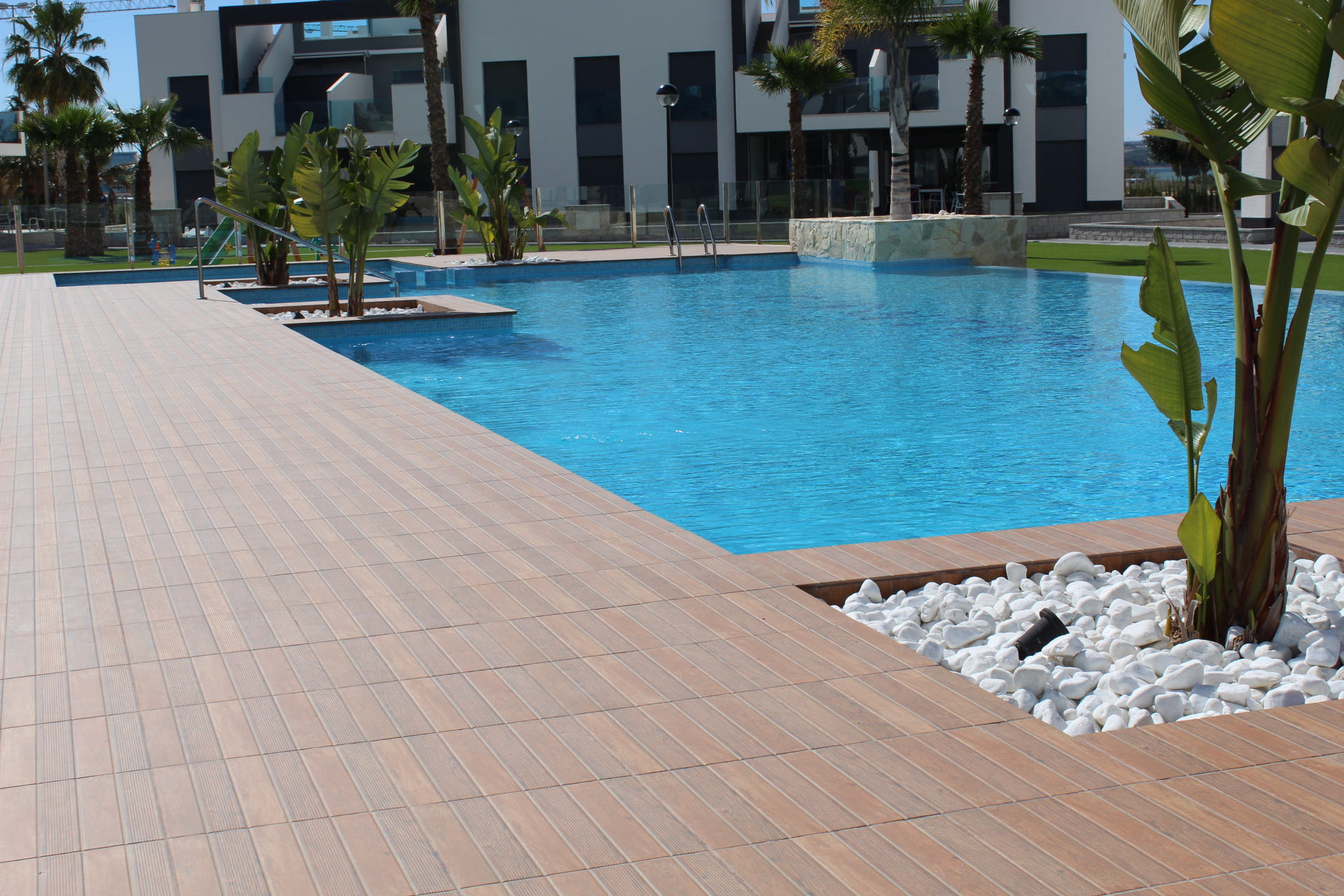 Oasis Beach 11 in El Raso.