Orihuela Costa Villamartin Green Hills
Orihuela Costa facing the south of Torrevieja. On the Orihuela Costa are the beaches of Punta Prima, Playa Flamenca, La Zenia, Cabo Roig and Campoamor. Orihuela Costa is like Torrevieja a very popular resort with year-round great night life. The quality of the beaches and bathing waters meet the high demands of the E.U. In the vicinity there are various golf courses like Campoamor, Las Ramblas and Villamartin.
Beautiful west-facing holiday rental with views over the beautiful landscaped park of Green Hills and the large communal pool. This apartment has 3 bedrooms, one with a double bed and fitted wardrobes, one with 2 single beds and fitted wardrobes and a children's room with a bunk bed. This makes this holiday rental very suitable for families with 3 or 4 children. There are also 2 bathrooms with walk-in and rain shower. One bathroom is en-suite and adjacent to the master bedroom and one of the bathrooms has a built-in washing machine (10 kg). There is a spacious modern living room with dining area and 6 chairs, smart TV with IP TV channels and an open kitchen with all appliances including a 45 cm wide dishwasher. From the living room you enter the spacious furnished balcony of 15 M2 with a dining table with 6 chairs and 2 sunbeds. The entire holiday rental has fiber optic WiFi and there is a private parking space under the building in the garage. From here, the apartment is easily accessible via the elevator. In short, a wonderful stay in a quiet area and equipped with all necessary amenities.
The beautifully landscaped sub-tropical park of Green Hills has 3 swimming pools, a sauna, an indoor pool, a playground for the children and a gym. You really get a holiday feeling here and can completely unwind here. All other facilities such as restaurants, bars, terraces, shops, etc. are within a 5-minute walk.
Additional information
For families with babies there is a child / travel cot and a high chair that you can use for free. Conditions for the use of electricity. The above rental prices include the cost of energy, unless more than 80 kWh per week is consumed, the cost of electricity will be deducted from the bail deposit á € 0.30 per KWh. The key manager can explain during the meet and greet. Special winter rates only € 225,- per week for hibernate in this attractive holiday rental in Villamartin. This is including water, electricity and linen and with a minimum stay of 4 weeks. For this you get a lot of comfort in a beautiful setting and accommodation
Keytransfer
Key collection for this holiday rental is possible at any day of the week. You can involve your holiday home on the 1st day of stay between 14.00 H and 20.00 H. On departure day you leave the holiday rental normally at 11.00 H. In consultation with the administrator are other times possible. Upon your arrival the administrators can provide you during your vacation various services to make your holiday as easy as possible. They welcome you and do with you personally the keytransfer and will already give you some useful tips about the surrounding area. They are also the point of contact during your stay.
Beaches
In this area on 1.5 till 5 kilometers away, you will find the beaches Cabo Roig, La Zenia, La Glea, Aqua Marina, Mill Palmeras, Punta Prima, Playa Flamenca and Campoamor. This coastal region has very nice sandy beaches with crystal clear water, interspersed with rocks and mostly small bays. This makes this area one of the most beautiful regions on the Costa Blanca. Due to the perfect location and the pleasant climate, and the more than 300 days of sunshine per year, beaches, bays and water sports ports are visited fairly frequently throughout the year. Playa La Zenia is within walking distance of Oasis Beach and is one of Orihuela's most visited beaches. la Zenia beach is located between Playa Flamenca and Cabo Roig. The beach has a length of 350 meters and due to its location, the facilities and maintenance it certainly deserves a Blue Flag. Also from here you can endlessly walk along the beautiful coastline which in itself is a beautiful attraction. The beach offers special access for disabled people, as well as public toilets and showers, there is a first aid station, there are public telephones, parking places, taxistops and bus stops, play areas, jet skiing and catering. On 5 minutes drive you will find La Zenia Boulevard and a few golf courses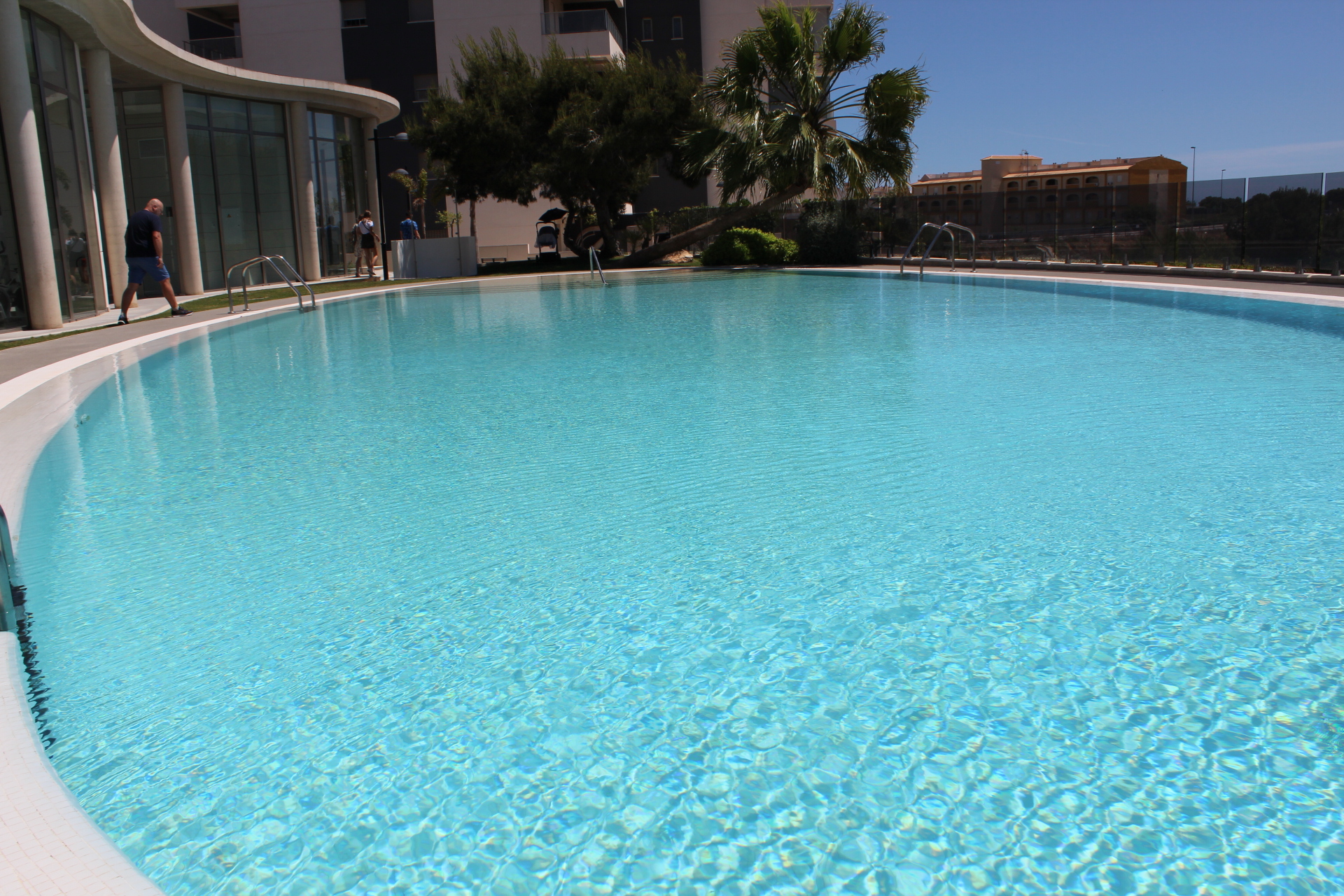 Beautiful holiday rental at the Orihuela Costa Villa Martin Green Hills.
Book your accomodation
More information
Facilities
Pre-installation air conditioning
Map
Prices
Prijzen en afstanden
April, May, June, September and October
Max. 6 persons. Basic price is 5 persons.
Availability
September 2023
Sun
Mon
Tue
Wed
Thu
Fri
Sat

27

28

29

30

31

1

2

3

4

5

6

7

8

9

10

11

12

13

14

15

16

17

18

19

20

21

22

23

24

25

26

27

28

29

30
October 2023
Sun
Mon
Tue
Wed
Thu
Fri
Sat

1

2

3

4

5

6

7

8

9

10

11

12

13

14

15

16

17

18

19

20

21

22

23

24

25

26

27

28

29

30

31

1

2

3

4
November 2023
Sun
Mon
Tue
Wed
Thu
Fri
Sat

29

30

31

1

2

3

4

5

6

7

8

9

10

11

12

13

14

15

16

17

18

19

20

21

22

23

24

25

26

27

28

29

30

1

2
December 2023

| Sun | Mon | Tue | Wed | Thu | Fri | Sat |
| --- | --- | --- | --- | --- | --- | --- |
| 26 | 27 | 28 | 29 | 30 | 1 | 2 |
| 3 | 4 | 5 | 6 | 7 | 8 | 9 |
| 10 | 11 | 12 | 13 | 14 | 15 | 16 |
| 17 | 18 | 19 | 20 | 21 | 22 | 23 |
| 24 | 25 | 26 | 27 | 28 | 29 | 30 |
| 31 | 1 | 2 | 3 | 4 | 5 | 6 |
January 2024
Sun
Mon
Tue
Wed
Thu
Fri
Sat

31

1

2

3

4

5

6

7

8

9

10

11

12

13

14

15

16

17

18

19

20

21

22

23

24

25

26

27

28

29

30

31

1

2

3
February 2024
Sun
Mon
Tue
Wed
Thu
Fri
Sat

28

29

30

31

1

2

3

4

5

6

7

8

9

10

11

12

13

14

15

16

17

18

19

20

21

22

23

24

25

26

27

28

29

1

2
March 2024

| Sun | Mon | Tue | Wed | Thu | Fri | Sat |
| --- | --- | --- | --- | --- | --- | --- |
| 25 | 26 | 27 | 28 | 29 | 1 | 2 |
| 3 | 4 | 5 | 6 | 7 | 8 | 9 |
| 10 | 11 | 12 | 13 | 14 | 15 | 16 |
| 17 | 18 | 19 | 20 | 21 | 22 | 23 |
| 24 | 25 | 26 | 27 | 28 | 29 | 30 |
| 31 | 1 | 2 | 3 | 4 | 5 | 6 |
April 2024
Sun
Mon
Tue
Wed
Thu
Fri
Sat

31

1

2

3

4

5

6

7

8

9

10

11

12

13

14

15

16

17

18

19

20

21

22

23

24

25

26

27

28

29

30

1

2

3

4
May 2024
Sun
Mon
Tue
Wed
Thu
Fri
Sat

28

29

30

1

2

3

4

5

6

7

8

9

10

11

12

13

14

15

16

17

18

19

20

21

22

23

24

25

26

27

28

29

30

31

1
June 2024

| Sun | Mon | Tue | Wed | Thu | Fri | Sat |
| --- | --- | --- | --- | --- | --- | --- |
| 26 | 27 | 28 | 29 | 30 | 31 | 1 |
| 2 | 3 | 4 | 5 | 6 | 7 | 8 |
| 9 | 10 | 11 | 12 | 13 | 14 | 15 |
| 16 | 17 | 18 | 19 | 20 | 21 | 22 |
| 23 | 24 | 25 | 26 | 27 | 28 | 29 |
| 30 | 1 | 2 | 3 | 4 | 5 | 6 |
July 2024
Sun
Mon
Tue
Wed
Thu
Fri
Sat

30

1

2

3

4

5

6

7

8

9

10

11

12

13

14

15

16

17

18

19

20

21

22

23

24

25

26

27

28

29

30

31

1

2

3
August 2024
Sun
Mon
Tue
Wed
Thu
Fri
Sat

28

29

30

31

1

2

3

4

5

6

7

8

9

10

11

12

13

14

15

16

17

18

19

20

21

22

23

24

25

26

27

28

29

30

31
September 2024
Sun
Mon
Tue
Wed
Thu
Fri
Sat

1

2

3

4

5

6

7

8

9

10

11

12

13

14

15

16

17

18

19

20

21

22

23

24

25

26

27

28

29

30

1

2

3

4

5
October 2024
Sun
Mon
Tue
Wed
Thu
Fri
Sat

29

30

1

2

3

4

5

6

7

8

9

10

11

12

13

14

15

16

17

18

19

20

21

22

23

24

25

26

27

28

29

30

31

1

2
November 2024
Sun
Mon
Tue
Wed
Thu
Fri
Sat

27

28

29

30

31

1

2

3

4

5

6

7

8

9

10

11

12

13

14

15

16

17

18

19

20

21

22

23

24

25

26

27

28

29

30
December 2024
Sun
Mon
Tue
Wed
Thu
Fri
Sat

1

2

3

4

5

6

7

8

9

10

11

12

13

14

15

16

17

18

19

20

21

22

23

24

25

26

27

28

29

30

31

1

2

3

4
January 2025
Sun
Mon
Tue
Wed
Thu
Fri
Sat

29

30

31

1

2

3

4

5

6

7

8

9

10

11

12

13

14

15

16

17

18

19

20

21

22

23

24

25

26

27

28

29

30

31

1
February 2025
Sun
Mon
Tue
Wed
Thu
Fri
Sat

26

27

28

29

30

31

1

2

3

4

5

6

7

8

9

10

11

12

13

14

15

16

17

18

19

20

21

22

23

24

25

26

27

28

1
March 2025

| Sun | Mon | Tue | Wed | Thu | Fri | Sat |
| --- | --- | --- | --- | --- | --- | --- |
| 23 | 24 | 25 | 26 | 27 | 28 | 1 |
| 2 | 3 | 4 | 5 | 6 | 7 | 8 |
| 9 | 10 | 11 | 12 | 13 | 14 | 15 |
| 16 | 17 | 18 | 19 | 20 | 21 | 22 |
| 23 | 24 | 25 | 26 | 27 | 28 | 29 |
| 30 | 31 | 1 | 2 | 3 | 4 | 5 |
April 2025
Sun
Mon
Tue
Wed
Thu
Fri
Sat

30

31

1

2

3

4

5

6

7

8

9

10

11

12

13

14

15

16

17

18

19

20

21

22

23

24

25

26

27

28

29

30

1

2

3
May 2025
Sun
Mon
Tue
Wed
Thu
Fri
Sat

27

28

29

30

1

2

3

4

5

6

7

8

9

10

11

12

13

14

15

16

17

18

19

20

21

22

23

24

25

26

27

28

29

30

31
June 2025
Sun
Mon
Tue
Wed
Thu
Fri
Sat

1

2

3

4

5

6

7

8

9

10

11

12

13

14

15

16

17

18

19

20

21

22

23

24

25

26

27

28

29

30

1

2

3

4

5
July 2025
Sun
Mon
Tue
Wed
Thu
Fri
Sat

29

30

1

2

3

4

5

6

7

8

9

10

11

12

13

14

15

16

17

18

19

20

21

22

23

24

25

26

27

28

29

30

31

1

2
August 2025

| Sun | Mon | Tue | Wed | Thu | Fri | Sat |
| --- | --- | --- | --- | --- | --- | --- |
| 27 | 28 | 29 | 30 | 31 | 1 | 2 |
| 3 | 4 | 5 | 6 | 7 | 8 | 9 |
| 10 | 11 | 12 | 13 | 14 | 15 | 16 |
| 17 | 18 | 19 | 20 | 21 | 22 | 23 |
| 24 | 25 | 26 | 27 | 28 | 29 | 30 |
| 31 | 1 | 2 | 3 | 4 | 5 | 6 |
September 2025
Sun
Mon
Tue
Wed
Thu
Fri
Sat

31

1

2

3

4

5

6

7

8

9

10

11

12

13

14

15

16

17

18

19

20

21

22

23

24

25

26

27

28

29

30

1

2

3

4
October 2025
Sun
Mon
Tue
Wed
Thu
Fri
Sat

28

29

30

1

2

3

4

5

6

7

8

9

10

11

12

13

14

15

16

17

18

19

20

21

22

23

24

25

26

27

28

29

30

31

1
November 2025

| Sun | Mon | Tue | Wed | Thu | Fri | Sat |
| --- | --- | --- | --- | --- | --- | --- |
| 26 | 27 | 28 | 29 | 30 | 31 | 1 |
| 2 | 3 | 4 | 5 | 6 | 7 | 8 |
| 9 | 10 | 11 | 12 | 13 | 14 | 15 |
| 16 | 17 | 18 | 19 | 20 | 21 | 22 |
| 23 | 24 | 25 | 26 | 27 | 28 | 29 |
| 30 | 1 | 2 | 3 | 4 | 5 | 6 |
December 2025
Sun
Mon
Tue
Wed
Thu
Fri
Sat

30

1

2

3

4

5

6

7

8

9

10

11

12

13

14

15

16

17

18

19

20

21

22

23

24

25

26

27

28

29

30

31

1

2

3
January 2026
Sun
Mon
Tue
Wed
Thu
Fri
Sat

28

29

30

31

1

2

3

4

5

6

7

8

9

10

11

12

13

14

15

16

17

18

19

20

21

22

23

24

25

26

27

28

29

30

31
February 2026
Sun
Mon
Tue
Wed
Thu
Fri
Sat

1

2

3

4

5

6

7

8

9

10

11

12

13

14

15

16

17

18

19

20

21

22

23

24

25

26

27

28
March 2026
Sun
Mon
Tue
Wed
Thu
Fri
Sat

1

2

3

4

5

6

7

8

9

10

11

12

13

14

15

16

17

18

19

20

21

22

23

24

25

26

27

28

29

30

31

1

2

3

4
April 2026
Sun
Mon
Tue
Wed
Thu
Fri
Sat

29

30

31

1

2

3

4

5

6

7

8

9

10

11

12

13

14

15

16

17

18

19

20

21

22

23

24

25

26

27

28

29

30

1

2
May 2026

| Sun | Mon | Tue | Wed | Thu | Fri | Sat |
| --- | --- | --- | --- | --- | --- | --- |
| 26 | 27 | 28 | 29 | 30 | 1 | 2 |
| 3 | 4 | 5 | 6 | 7 | 8 | 9 |
| 10 | 11 | 12 | 13 | 14 | 15 | 16 |
| 17 | 18 | 19 | 20 | 21 | 22 | 23 |
| 24 | 25 | 26 | 27 | 28 | 29 | 30 |
| 31 | 1 | 2 | 3 | 4 | 5 | 6 |
June 2026
Sun
Mon
Tue
Wed
Thu
Fri
Sat

31

1

2

3

4

5

6

7

8

9

10

11

12

13

14

15

16

17

18

19

20

21

22

23

24

25

26

27

28

29

30

1

2

3

4
July 2026
Sun
Mon
Tue
Wed
Thu
Fri
Sat

28

29

30

1

2

3

4

5

6

7

8

9

10

11

12

13

14

15

16

17

18

19

20

21

22

23

24

25

26

27

28

29

30

31

1
August 2026

| Sun | Mon | Tue | Wed | Thu | Fri | Sat |
| --- | --- | --- | --- | --- | --- | --- |
| 26 | 27 | 28 | 29 | 30 | 31 | 1 |
| 2 | 3 | 4 | 5 | 6 | 7 | 8 |
| 9 | 10 | 11 | 12 | 13 | 14 | 15 |
| 16 | 17 | 18 | 19 | 20 | 21 | 22 |
| 23 | 24 | 25 | 26 | 27 | 28 | 29 |
| 30 | 31 | 1 | 2 | 3 | 4 | 5 |
September 2026
Sun
Mon
Tue
Wed
Thu
Fri
Sat

30

31

1

2

3

4

5

6

7

8

9

10

11

12

13

14

15

16

17

18

19

20

21

22

23

24

25

26

27

28

29

30

1

2

3
October 2026
Sun
Mon
Tue
Wed
Thu
Fri
Sat

27

28

29

30

1

2

3

4

5

6

7

8

9

10

11

12

13

14

15

16

17

18

19

20

21

22

23

24

25

26

27

28

29

30

31
November 2026
Sun
Mon
Tue
Wed
Thu
Fri
Sat

1

2

3

4

5

6

7

8

9

10

11

12

13

14

15

16

17

18

19

20

21

22

23

24

25

26

27

28

29

30

1

2

3

4

5
December 2026
Sun
Mon
Tue
Wed
Thu
Fri
Sat

29

30

1

2

3

4

5

6

7

8

9

10

11

12

13

14

15

16

17

18

19

20

21

22

23

24

25

26

27

28

29

30

31

1

2
January 2027

| Sun | Mon | Tue | Wed | Thu | Fri | Sat |
| --- | --- | --- | --- | --- | --- | --- |
| 27 | 28 | 29 | 30 | 31 | 1 | 2 |
| 3 | 4 | 5 | 6 | 7 | 8 | 9 |
| 10 | 11 | 12 | 13 | 14 | 15 | 16 |
| 17 | 18 | 19 | 20 | 21 | 22 | 23 |
| 24 | 25 | 26 | 27 | 28 | 29 | 30 |
| 31 | 1 | 2 | 3 | 4 | 5 | 6 |
February 2027
Sun
Mon
Tue
Wed
Thu
Fri
Sat

31

1

2

3

4

5

6

7

8

9

10

11

12

13

14

15

16

17

18

19

20

21

22

23

24

25

26

27

28

1

2

3

4

5

6
March 2027
Sun
Mon
Tue
Wed
Thu
Fri
Sat

28

1

2

3

4

5

6

7

8

9

10

11

12

13

14

15

16

17

18

19

20

21

22

23

24

25

26

27

28

29

30

31

1

2

3
April 2027
Sun
Mon
Tue
Wed
Thu
Fri
Sat

28

29

30

31

1

2

3

4

5

6

7

8

9

10

11

12

13

14

15

16

17

18

19

20

21

22

23

24

25

26

27

28

29

30

1
May 2027

| Sun | Mon | Tue | Wed | Thu | Fri | Sat |
| --- | --- | --- | --- | --- | --- | --- |
| 25 | 26 | 27 | 28 | 29 | 30 | 1 |
| 2 | 3 | 4 | 5 | 6 | 7 | 8 |
| 9 | 10 | 11 | 12 | 13 | 14 | 15 |
| 16 | 17 | 18 | 19 | 20 | 21 | 22 |
| 23 | 24 | 25 | 26 | 27 | 28 | 29 |
| 30 | 31 | 1 | 2 | 3 | 4 | 5 |
June 2027
Sun
Mon
Tue
Wed
Thu
Fri
Sat

30

31

1

2

3

4

5

6

7

8

9

10

11

12

13

14

15

16

17

18

19

20

21

22

23

24

25

26

27

28

29

30

1

2

3
July 2027
Sun
Mon
Tue
Wed
Thu
Fri
Sat

27

28

29

30

1

2

3

4

5

6

7

8

9

10

11

12

13

14

15

16

17

18

19

20

21

22

23

24

25

26

27

28

29

30

31
August 2027
Sun
Mon
Tue
Wed
Thu
Fri
Sat

1

2

3

4

5

6

7

8

9

10

11

12

13

14

15

16

17

18

19

20

21

22

23

24

25

26

27

28

29

30

31

1

2

3

4