La Zenia on the Orihuela Costa.
La Zenia is the name of an urbanization and sandy beach in the municipality of Orihuela Costa within the municipality of Orihuela, on the Costa Blanca, in the province of Alicante and in the Spanish autonomous region of Valencia. La Zenia is located about 8 km south of the port city of Torrevieja on the Spanish east coast. In 2017, La Zenia had more than 2500 inhabitants. The sub-municipality is divided into two parts, namely La Zenia and La Zenia II. La Zenia is bordered to the north by the urbanizations Playa Flamenca, Montezenia in the west and Cabo Roig, Las Amapolas IV and San Jose IV in the south.
The white sandy beach the sub-municipality is located in a series of six beaches in the municipality of Orihuela Costa and is bordered to the north by the beach Playa Flamenca and in the south by the beach Cabo Roig. The beach has a length of 350 meters and a width of 60 meters. Furthermore, there are on the beach, among other things, ramps to the sea, a beach tent, a first aid station and special access for disabled people. The beach is surrounded by numerous restaurants and hotels.
In this area you will find the Cabo Roig, La Zenia, La Glea, Aqua Marina, Mill Palmeras, Punta Prima, Playa Flamenca and Campoamor beaches. This coastal region has very nice sandy beaches with crystal clear water, interspersed with rocks and mostly small bays, which makes this area one of the most beautiful regions on the Costa Blanca. Due to the perfect location and the pleasant climate, and the more than 300 days of sunshine per year, beaches, bays and water sports ports are visited fairly frequently throughout the year. Playa La Zenia is within walking distance of Oasis Beach and is one of Orihuela's most visited beaches and is located between Playa Flamenca and Cabo Roig. The beach has a length of 350 meters and due to its location, the facilities and maintenance it certainly deserves a Blue Flag. Also from here you can endlessly walk along the beautiful coastline which in itself is a beautiful attraction. The beach offers special access for disabled people, as well as public toilets and showers, there is a first aid station, there are public telephones, parking places, taxistops and bus stops, play areas, jet skiing and catering.
The N-332 motorway is parallel to the Spanish east coast and traverses La Zenia. On the northwest side is the AP-7 motorway. The entrance of La Zenia via the motorway AP-7 towards Murcia, has the special feature, that it does not pass the unique toll house of the AP-7, so this part of the AP-7 is free, while the AP-7 continues in this area. area is mainly a toll road.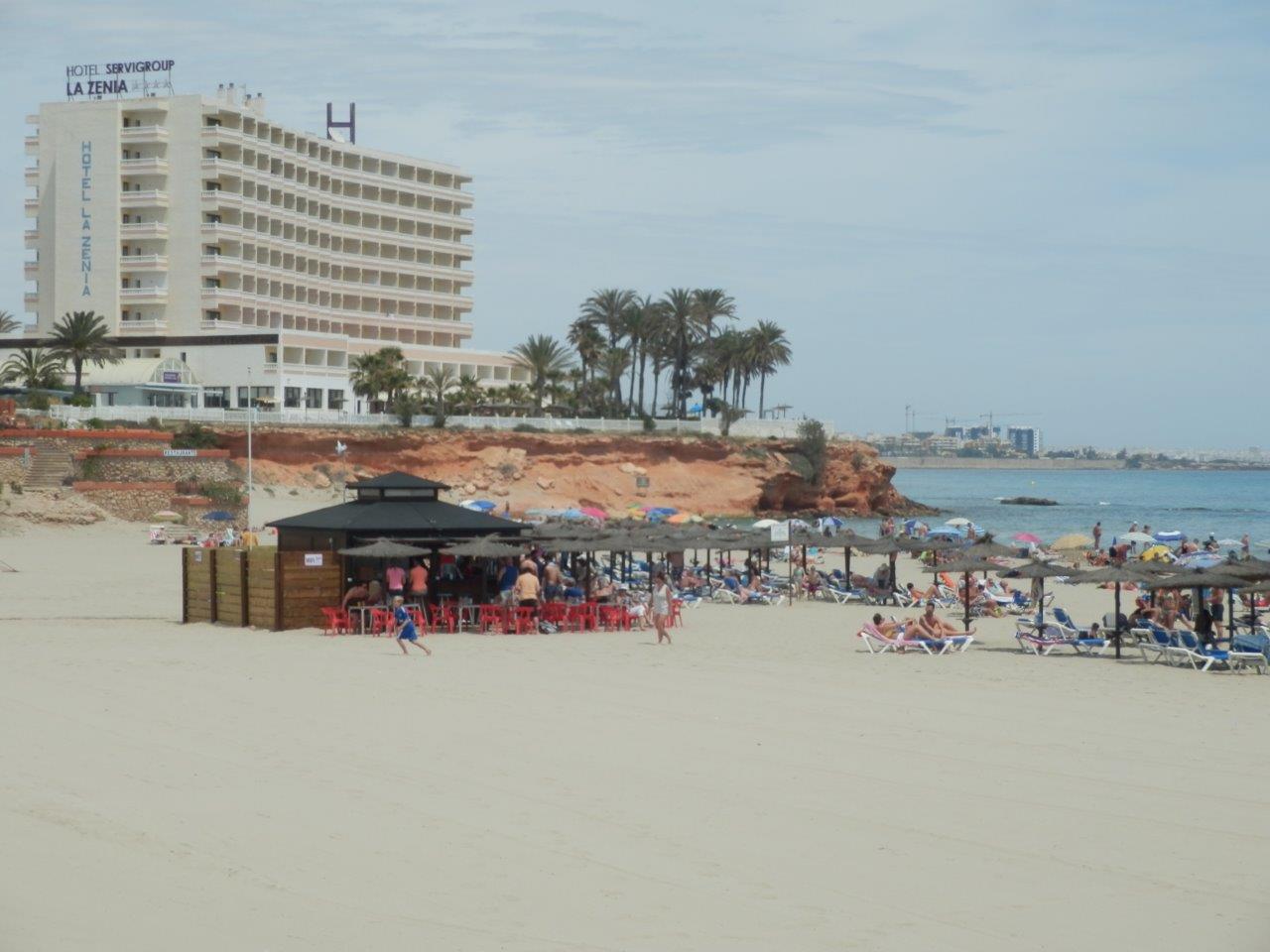 rent renting letting rental hibernate holiday house home apartment or villa in spain costa blanca orihuela costa la zenia stranden