Summary
No. de registro:
VT-459093-A
Torrevieja Villa Amalia
Torrevieja as a port on the sea, among other things, has a three kilometer long promenade with restaurants, shops and opportunities to relax. The city is surrounded by two salt lakes. These lakes are well known for the soothing air and the healing powers in combination with the warm climate. The port is in the center, from there boats sail to the island of Tabarca. Every Friday you can visit one of the largest weekly markets on the Costa Blanca. Golf enthusiasts can find a number of golf courses within 10 km radius such as Las Ramblas, Villamartin, Campoamor and La Finca. The Aquopolis water park, with numerous water slides and swimming pools, is well worth a visit.
This upstairs apartment in Villa Amalia with sunny roof terrace of 40 m2 has a balcony on the west. The holiday apartment is located in the La Veleta district in the south of Torrevieja, 300 meters from the sea and 700 meters from the beach of Los Naufragos. The apartment has a spacious living room with a nice decoration, air conditioning hot and cold, LCD TV with Spanish channels and an open kitchen with all appliances including a dishwasher. There are 2 bedrooms with fitted wardrobes and the bedrooms have 1 x 2 beds and 2 x 1 bed and 2 bathrooms with both a shower and underfloor heating. The apartment has a balcony with a table and 4 chairs and has views over the communal garden and pool. The roof terrace is equipped with a lounge set and offers a beautiful view to the interior. The residence itself consists of 68 apartments and has 3 swimming pools, one heated and a fitness area. Several restaurants, an Aldi, shops and terraces are within walking distance. Parking is possible in the underground parking garage or along the road next to the complex.
Extra information en prices
| | | |
| --- | --- | --- |
| Period | per night | per week |
| 6 january t/m 15 february | €50,- | €350,- |
| 16 february t/m 26 april | €65,- | €422,- |
| 27 april t/m 31 may | €80,- | €520,- |
| 1 june t/m 30 juny | €98,- | €637,- |
| 1 july t/m 31 august | €119,- | €773,- |
| 1 september t/m 30 september | €98,- | €637,- |
| 1 october t/m 4 november | €80,- | €520,- |
| 5 november t/m 22 december | €50,- | €350,- |
| 23 december t/m 5 january | €80,- | €520,- |
Special prices and availability for overwintering are on request. The prices are then inclusive of water, electricity and linen and with a minimum stay of two months. For this you get a lot of comfort in a beautiful environment and accommodation. Additional conditions for the consumption of electricity: stated rental prices include energy costs, unless more than 140 KWh per week is consumed in electricity. Overuse is deducted from the deposit of € 0.25 per KWh. Surcharge parking charge is € 5, - per night and for arrivals after 22.00 h and on 25-12 and 01-01 there is a surcharge of € 20, -
Key transfer
Key collection is possible on any day of the week. You can move into your holiday home on the 1st day of stay between 2 PM and 8 PM. On the day of departure, you normally leave the house before 11 AM. In consultation with the manager, other times are possible. Upon your arrival and during your holiday, the managers can provide you with various services to make your holiday as easy as possible. They welcome you and personally do the key handover and give you some useful tips about the nearby area. They are also the point of contact during your stay.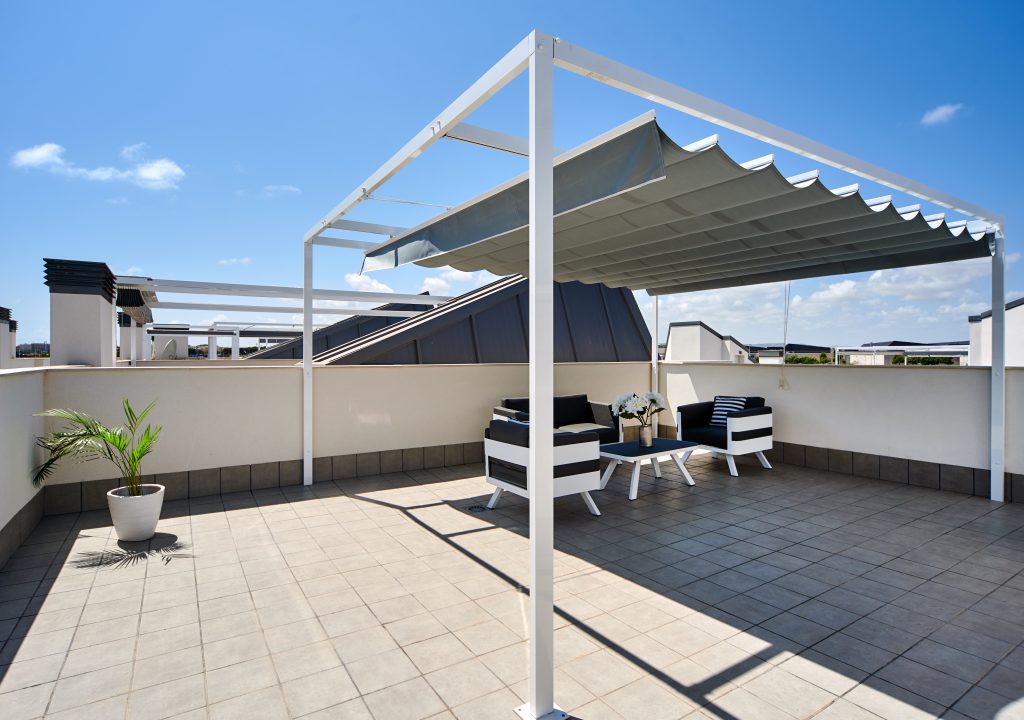 Book your accomodation
More information
Facilities
Pre-installation air conditioning
Map
Prices
Prijzen en afstanden
April, May, June, September and October
Max. 5 persons. Basic price is 4 persons.
Availability
September 2022
Sun
Mon
Tue
Wed
Thu
Fri
Sat

28

29

30

31

1

2

3

4

5

6

7

8

9

10

11

12

13

14

15

16

17

18

19

20

21

22

23

24

25

26

27

28

29

30

1
October 2022

| Sun | Mon | Tue | Wed | Thu | Fri | Sat |
| --- | --- | --- | --- | --- | --- | --- |
| 25 | 26 | 27 | 28 | 29 | 30 | 1 |
| 2 | 3 | 4 | 5 | 6 | 7 | 8 |
| 9 | 10 | 11 | 12 | 13 | 14 | 15 |
| 16 | 17 | 18 | 19 | 20 | 21 | 22 |
| 23 | 24 | 25 | 26 | 27 | 28 | 29 |
| 30 | 31 | 1 | 2 | 3 | 4 | 5 |
November 2022
Sun
Mon
Tue
Wed
Thu
Fri
Sat

30

31

1

2

3

4

5

6

7

8

9

10

11

12

13

14

15

16

17

18

19

20

21

22

23

24

25

26

27

28

29

30

1

2

3
December 2022
Sun
Mon
Tue
Wed
Thu
Fri
Sat

27

28

29

30

1

2

3

4

5

6

7

8

9

10

11

12

13

14

15

16

17

18

19

20

21

22

23

24

25

26

27

28

29

30

31
January 2023
Sun
Mon
Tue
Wed
Thu
Fri
Sat

1

2

3

4

5

6

7

8

9

10

11

12

13

14

15

16

17

18

19

20

21

22

23

24

25

26

27

28

29

30

31

1

2

3

4
February 2023
Sun
Mon
Tue
Wed
Thu
Fri
Sat

29

30

31

1

2

3

4

5

6

7

8

9

10

11

12

13

14

15

16

17

18

19

20

21

22

23

24

25

26

27

28

1

2

3

4
March 2023
Sun
Mon
Tue
Wed
Thu
Fri
Sat

26

27

28

1

2

3

4

5

6

7

8

9

10

11

12

13

14

15

16

17

18

19

20

21

22

23

24

25

26

27

28

29

30

31

1
April 2023

| Sun | Mon | Tue | Wed | Thu | Fri | Sat |
| --- | --- | --- | --- | --- | --- | --- |
| 26 | 27 | 28 | 29 | 30 | 31 | 1 |
| 2 | 3 | 4 | 5 | 6 | 7 | 8 |
| 9 | 10 | 11 | 12 | 13 | 14 | 15 |
| 16 | 17 | 18 | 19 | 20 | 21 | 22 |
| 23 | 24 | 25 | 26 | 27 | 28 | 29 |
| 30 | 1 | 2 | 3 | 4 | 5 | 6 |
May 2023
Sun
Mon
Tue
Wed
Thu
Fri
Sat

30

1

2

3

4

5

6

7

8

9

10

11

12

13

14

15

16

17

18

19

20

21

22

23

24

25

26

27

28

29

30

31

1

2

3
June 2023
Sun
Mon
Tue
Wed
Thu
Fri
Sat

28

29

30

31

1

2

3

4

5

6

7

8

9

10

11

12

13

14

15

16

17

18

19

20

21

22

23

24

25

26

27

28

29

30

1
July 2023

| Sun | Mon | Tue | Wed | Thu | Fri | Sat |
| --- | --- | --- | --- | --- | --- | --- |
| 25 | 26 | 27 | 28 | 29 | 30 | 1 |
| 2 | 3 | 4 | 5 | 6 | 7 | 8 |
| 9 | 10 | 11 | 12 | 13 | 14 | 15 |
| 16 | 17 | 18 | 19 | 20 | 21 | 22 |
| 23 | 24 | 25 | 26 | 27 | 28 | 29 |
| 30 | 31 | 1 | 2 | 3 | 4 | 5 |
August 2023
Sun
Mon
Tue
Wed
Thu
Fri
Sat

30

31

1

2

3

4

5

6

7

8

9

10

11

12

13

14

15

16

17

18

19

20

21

22

23

24

25

26

27

28

29

30

31

1

2
September 2023
Sun
Mon
Tue
Wed
Thu
Fri
Sat

27

28

29

30

31

1

2

3

4

5

6

7

8

9

10

11

12

13

14

15

16

17

18

19

20

21

22

23

24

25

26

27

28

29

30
October 2023
Sun
Mon
Tue
Wed
Thu
Fri
Sat

1

2

3

4

5

6

7

8

9

10

11

12

13

14

15

16

17

18

19

20

21

22

23

24

25

26

27

28

29

30

31

1

2

3

4
November 2023
Sun
Mon
Tue
Wed
Thu
Fri
Sat

29

30

31

1

2

3

4

5

6

7

8

9

10

11

12

13

14

15

16

17

18

19

20

21

22

23

24

25

26

27

28

29

30

1

2
December 2023

| Sun | Mon | Tue | Wed | Thu | Fri | Sat |
| --- | --- | --- | --- | --- | --- | --- |
| 26 | 27 | 28 | 29 | 30 | 1 | 2 |
| 3 | 4 | 5 | 6 | 7 | 8 | 9 |
| 10 | 11 | 12 | 13 | 14 | 15 | 16 |
| 17 | 18 | 19 | 20 | 21 | 22 | 23 |
| 24 | 25 | 26 | 27 | 28 | 29 | 30 |
| 31 | 1 | 2 | 3 | 4 | 5 | 6 |
January 2024
Sun
Mon
Tue
Wed
Thu
Fri
Sat

31

1

2

3

4

5

6

7

8

9

10

11

12

13

14

15

16

17

18

19

20

21

22

23

24

25

26

27

28

29

30

31

1

2

3
February 2024
Sun
Mon
Tue
Wed
Thu
Fri
Sat

28

29

30

31

1

2

3

4

5

6

7

8

9

10

11

12

13

14

15

16

17

18

19

20

21

22

23

24

25

26

27

28

29

1

2
March 2024

| Sun | Mon | Tue | Wed | Thu | Fri | Sat |
| --- | --- | --- | --- | --- | --- | --- |
| 25 | 26 | 27 | 28 | 29 | 1 | 2 |
| 3 | 4 | 5 | 6 | 7 | 8 | 9 |
| 10 | 11 | 12 | 13 | 14 | 15 | 16 |
| 17 | 18 | 19 | 20 | 21 | 22 | 23 |
| 24 | 25 | 26 | 27 | 28 | 29 | 30 |
| 31 | 1 | 2 | 3 | 4 | 5 | 6 |
April 2024
Sun
Mon
Tue
Wed
Thu
Fri
Sat

31

1

2

3

4

5

6

7

8

9

10

11

12

13

14

15

16

17

18

19

20

21

22

23

24

25

26

27

28

29

30

1

2

3

4
May 2024
Sun
Mon
Tue
Wed
Thu
Fri
Sat

28

29

30

1

2

3

4

5

6

7

8

9

10

11

12

13

14

15

16

17

18

19

20

21

22

23

24

25

26

27

28

29

30

31

1
June 2024

| Sun | Mon | Tue | Wed | Thu | Fri | Sat |
| --- | --- | --- | --- | --- | --- | --- |
| 26 | 27 | 28 | 29 | 30 | 31 | 1 |
| 2 | 3 | 4 | 5 | 6 | 7 | 8 |
| 9 | 10 | 11 | 12 | 13 | 14 | 15 |
| 16 | 17 | 18 | 19 | 20 | 21 | 22 |
| 23 | 24 | 25 | 26 | 27 | 28 | 29 |
| 30 | 1 | 2 | 3 | 4 | 5 | 6 |
July 2024
Sun
Mon
Tue
Wed
Thu
Fri
Sat

30

1

2

3

4

5

6

7

8

9

10

11

12

13

14

15

16

17

18

19

20

21

22

23

24

25

26

27

28

29

30

31

1

2

3
August 2024
Sun
Mon
Tue
Wed
Thu
Fri
Sat

28

29

30

31

1

2

3

4

5

6

7

8

9

10

11

12

13

14

15

16

17

18

19

20

21

22

23

24

25

26

27

28

29

30

31
September 2024
Sun
Mon
Tue
Wed
Thu
Fri
Sat

1

2

3

4

5

6

7

8

9

10

11

12

13

14

15

16

17

18

19

20

21

22

23

24

25

26

27

28

29

30

1

2

3

4

5
October 2024
Sun
Mon
Tue
Wed
Thu
Fri
Sat

29

30

1

2

3

4

5

6

7

8

9

10

11

12

13

14

15

16

17

18

19

20

21

22

23

24

25

26

27

28

29

30

31

1

2
November 2024
Sun
Mon
Tue
Wed
Thu
Fri
Sat

27

28

29

30

31

1

2

3

4

5

6

7

8

9

10

11

12

13

14

15

16

17

18

19

20

21

22

23

24

25

26

27

28

29

30
December 2024
Sun
Mon
Tue
Wed
Thu
Fri
Sat

1

2

3

4

5

6

7

8

9

10

11

12

13

14

15

16

17

18

19

20

21

22

23

24

25

26

27

28

29

30

31

1

2

3

4
January 2025
Sun
Mon
Tue
Wed
Thu
Fri
Sat

29

30

31

1

2

3

4

5

6

7

8

9

10

11

12

13

14

15

16

17

18

19

20

21

22

23

24

25

26

27

28

29

30

31

1
February 2025
Sun
Mon
Tue
Wed
Thu
Fri
Sat

26

27

28

29

30

31

1

2

3

4

5

6

7

8

9

10

11

12

13

14

15

16

17

18

19

20

21

22

23

24

25

26

27

28

1
March 2025

| Sun | Mon | Tue | Wed | Thu | Fri | Sat |
| --- | --- | --- | --- | --- | --- | --- |
| 23 | 24 | 25 | 26 | 27 | 28 | 1 |
| 2 | 3 | 4 | 5 | 6 | 7 | 8 |
| 9 | 10 | 11 | 12 | 13 | 14 | 15 |
| 16 | 17 | 18 | 19 | 20 | 21 | 22 |
| 23 | 24 | 25 | 26 | 27 | 28 | 29 |
| 30 | 31 | 1 | 2 | 3 | 4 | 5 |
April 2025
Sun
Mon
Tue
Wed
Thu
Fri
Sat

30

31

1

2

3

4

5

6

7

8

9

10

11

12

13

14

15

16

17

18

19

20

21

22

23

24

25

26

27

28

29

30

1

2

3
May 2025
Sun
Mon
Tue
Wed
Thu
Fri
Sat

27

28

29

30

1

2

3

4

5

6

7

8

9

10

11

12

13

14

15

16

17

18

19

20

21

22

23

24

25

26

27

28

29

30

31
June 2025
Sun
Mon
Tue
Wed
Thu
Fri
Sat

1

2

3

4

5

6

7

8

9

10

11

12

13

14

15

16

17

18

19

20

21

22

23

24

25

26

27

28

29

30

1

2

3

4

5
July 2025
Sun
Mon
Tue
Wed
Thu
Fri
Sat

29

30

1

2

3

4

5

6

7

8

9

10

11

12

13

14

15

16

17

18

19

20

21

22

23

24

25

26

27

28

29

30

31

1

2
August 2025

| Sun | Mon | Tue | Wed | Thu | Fri | Sat |
| --- | --- | --- | --- | --- | --- | --- |
| 27 | 28 | 29 | 30 | 31 | 1 | 2 |
| 3 | 4 | 5 | 6 | 7 | 8 | 9 |
| 10 | 11 | 12 | 13 | 14 | 15 | 16 |
| 17 | 18 | 19 | 20 | 21 | 22 | 23 |
| 24 | 25 | 26 | 27 | 28 | 29 | 30 |
| 31 | 1 | 2 | 3 | 4 | 5 | 6 |
September 2025
Sun
Mon
Tue
Wed
Thu
Fri
Sat

31

1

2

3

4

5

6

7

8

9

10

11

12

13

14

15

16

17

18

19

20

21

22

23

24

25

26

27

28

29

30

1

2

3

4
October 2025
Sun
Mon
Tue
Wed
Thu
Fri
Sat

28

29

30

1

2

3

4

5

6

7

8

9

10

11

12

13

14

15

16

17

18

19

20

21

22

23

24

25

26

27

28

29

30

31

1
November 2025

| Sun | Mon | Tue | Wed | Thu | Fri | Sat |
| --- | --- | --- | --- | --- | --- | --- |
| 26 | 27 | 28 | 29 | 30 | 31 | 1 |
| 2 | 3 | 4 | 5 | 6 | 7 | 8 |
| 9 | 10 | 11 | 12 | 13 | 14 | 15 |
| 16 | 17 | 18 | 19 | 20 | 21 | 22 |
| 23 | 24 | 25 | 26 | 27 | 28 | 29 |
| 30 | 1 | 2 | 3 | 4 | 5 | 6 |
December 2025
Sun
Mon
Tue
Wed
Thu
Fri
Sat

30

1

2

3

4

5

6

7

8

9

10

11

12

13

14

15

16

17

18

19

20

21

22

23

24

25

26

27

28

29

30

31

1

2

3
January 2026
Sun
Mon
Tue
Wed
Thu
Fri
Sat

28

29

30

31

1

2

3

4

5

6

7

8

9

10

11

12

13

14

15

16

17

18

19

20

21

22

23

24

25

26

27

28

29

30

31
February 2026
Sun
Mon
Tue
Wed
Thu
Fri
Sat

1

2

3

4

5

6

7

8

9

10

11

12

13

14

15

16

17

18

19

20

21

22

23

24

25

26

27

28
March 2026
Sun
Mon
Tue
Wed
Thu
Fri
Sat

1

2

3

4

5

6

7

8

9

10

11

12

13

14

15

16

17

18

19

20

21

22

23

24

25

26

27

28

29

30

31

1

2

3

4
April 2026
Sun
Mon
Tue
Wed
Thu
Fri
Sat

29

30

31

1

2

3

4

5

6

7

8

9

10

11

12

13

14

15

16

17

18

19

20

21

22

23

24

25

26

27

28

29

30

1

2
May 2026

| Sun | Mon | Tue | Wed | Thu | Fri | Sat |
| --- | --- | --- | --- | --- | --- | --- |
| 26 | 27 | 28 | 29 | 30 | 1 | 2 |
| 3 | 4 | 5 | 6 | 7 | 8 | 9 |
| 10 | 11 | 12 | 13 | 14 | 15 | 16 |
| 17 | 18 | 19 | 20 | 21 | 22 | 23 |
| 24 | 25 | 26 | 27 | 28 | 29 | 30 |
| 31 | 1 | 2 | 3 | 4 | 5 | 6 |
June 2026
Sun
Mon
Tue
Wed
Thu
Fri
Sat

31

1

2

3

4

5

6

7

8

9

10

11

12

13

14

15

16

17

18

19

20

21

22

23

24

25

26

27

28

29

30

1

2

3

4
July 2026
Sun
Mon
Tue
Wed
Thu
Fri
Sat

28

29

30

1

2

3

4

5

6

7

8

9

10

11

12

13

14

15

16

17

18

19

20

21

22

23

24

25

26

27

28

29

30

31

1
August 2026

| Sun | Mon | Tue | Wed | Thu | Fri | Sat |
| --- | --- | --- | --- | --- | --- | --- |
| 26 | 27 | 28 | 29 | 30 | 31 | 1 |
| 2 | 3 | 4 | 5 | 6 | 7 | 8 |
| 9 | 10 | 11 | 12 | 13 | 14 | 15 |
| 16 | 17 | 18 | 19 | 20 | 21 | 22 |
| 23 | 24 | 25 | 26 | 27 | 28 | 29 |
| 30 | 31 | 1 | 2 | 3 | 4 | 5 |