Summary
No. de registro:
VT-463988-A
Orihuela Costa Casa Loeka holiday rental
Orihuela Costa facing the south of Torrevieja. On the Orihuela Costa are the beaches of Punta Prima, Playa Flamenca, La Zenia, Cabo Roig and Campoamor. Orihuela Costa is like Torrevieja a very popular resort with all year around great night life. The quality of the beaches and bathing waters meet the high demands of the E.U. In the vicinity there are various golf courses like Campoamor, Las Ramblas and Villamartin.
This luxury quad holiday rental is located in a beautiful location in a quiet new residential area Entre Golf on the border of Orihuela Costa and Torrvieja and one kilometer away from the Villamartin plaza. The holiday rental has 3 bedrooms and 2 bathrooms and offers space for 6 people. On your holiday rental you have complete privacy and you can enjoy the sun or a snack and a drink in your private pool of 2.5 by 3.5 meters. Furthermore, the holiday rental has a spacious living room with satellite TV and WIFI and a luxury kitchen with all appliances. The holiday home has several terraces next to the house, near the swimming pool and on the 1st floor. There is also a solarium with always sun and furniture. From the sunny solarium you have a beautiful view of the surroundings, a view to the sea and the salt lake of Torrevieja.
Additional information
Additional conditions for the use of electricity. The mentioned rental prices include energy, unless more than 140 Kwh per week of electricity is consumed. The additional consumption will be deducted from the deposit a € 0.25 per KWh. The key manager can give you an explanation on arrival. Special winter prices in the months of November to March we ask for a stay in this attractive stay € 170, - per week, including water, electricity and linen. For this you get a lot of comfort in a beautiful environment and accommodation. The pool can be used from the end of May until the end of October. The beaches of Orihuela Costa are 3 kilometers away and terraces, restaurants, supermarkets and bars at 2 kilometers. In a radius of 5 kilometers there are still 4 golf courses to be found. If you want to go out, go to the Friday market of Torrevieja, to shopping center La Zenia Boulevard, a day of shopping in the Centro Commercial of Torrevieja with a bowling, mini funfair, a cinema and a casino. In the vicinity there are plenty of opportunities for water sports, karting, horseback riding, golf, going out and hiking.
Key transfer
Key collection is possible on any day of the week. You can move into your holiday home on the 1st day of stay between 2 and 8 pm. On the day of departure you normally leave the house before 11 am. Other times are possible in consultation with the manager. On your arrival and during your holiday the administrators of Thuisinspanje.net can provide you with various services to make your holiday as easy as possible. They welcome you and personally do the key handover and give you some useful tips about the nearby area. They are also the point of contact during your stay.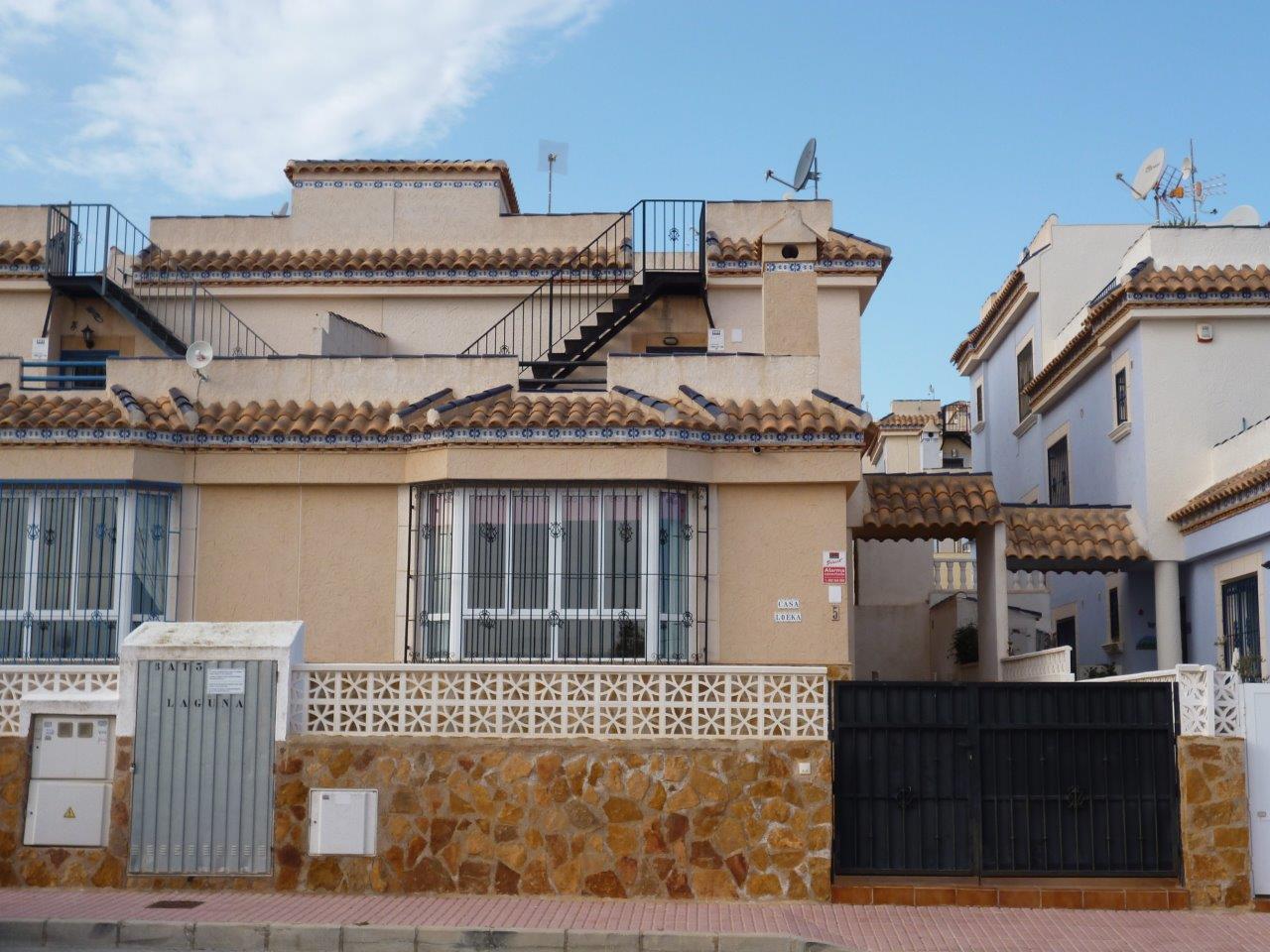 Book your accomodation
More information
Facilities
Pre-installation air conditioning
Map
Prices
Prijzen en afstanden
April, May, June, September and October
Starting at 8 weeks. Electricity included*
Max. persons. Basic price is 6 persons.
*See additional information
Availability
April 2020
Sun
Mon
Tue
Wed
Thu
Fri
Sat

29

30

31

1

2

3

4

5

6

7

8

9

10

11

12

13

14

15

16

17

18

19

20

21

22

23

24

25

26

27

28

29

30

1

2
May 2020

| Sun | Mon | Tue | Wed | Thu | Fri | Sat |
| --- | --- | --- | --- | --- | --- | --- |
| 26 | 27 | 28 | 29 | 30 | 1 | 2 |
| 3 | 4 | 5 | 6 | 7 | 8 | 9 |
| 10 | 11 | 12 | 13 | 14 | 15 | 16 |
| 17 | 18 | 19 | 20 | 21 | 22 | 23 |
| 24 | 25 | 26 | 27 | 28 | 29 | 30 |
| 31 | 1 | 2 | 3 | 4 | 5 | 6 |
June 2020
Sun
Mon
Tue
Wed
Thu
Fri
Sat

31

1

2

3

4

5

6

7

8

9

10

11

12

13

14

15

16

17

18

19

20

21

22

23

24

25

26

27

28

29

30

1

2

3

4
July 2020
Sun
Mon
Tue
Wed
Thu
Fri
Sat

28

29

30

1

2

3

4

5

6

7

8

9

10

11

12

13

14

15

16

17

18

19

20

21

22

23

24

25

26

27

28

29

30

31

1
August 2020

| Sun | Mon | Tue | Wed | Thu | Fri | Sat |
| --- | --- | --- | --- | --- | --- | --- |
| 26 | 27 | 28 | 29 | 30 | 31 | 1 |
| 2 | 3 | 4 | 5 | 6 | 7 | 8 |
| 9 | 10 | 11 | 12 | 13 | 14 | 15 |
| 16 | 17 | 18 | 19 | 20 | 21 | 22 |
| 23 | 24 | 25 | 26 | 27 | 28 | 29 |
| 30 | 31 | 1 | 2 | 3 | 4 | 5 |
September 2020
Sun
Mon
Tue
Wed
Thu
Fri
Sat

30

31

1

2

3

4

5

6

7

8

9

10

11

12

13

14

15

16

17

18

19

20

21

22

23

24

25

26

27

28

29

30

1

2

3
October 2020
Sun
Mon
Tue
Wed
Thu
Fri
Sat

27

28

29

30

1

2

3

4

5

6

7

8

9

10

11

12

13

14

15

16

17

18

19

20

21

22

23

24

25

26

27

28

29

30

31
November 2020
Sun
Mon
Tue
Wed
Thu
Fri
Sat

1

2

3

4

5

6

7

8

9

10

11

12

13

14

15

16

17

18

19

20

21

22

23

24

25

26

27

28

29

30

1

2

3

4

5
December 2020
Sun
Mon
Tue
Wed
Thu
Fri
Sat

29

30

1

2

3

4

5

6

7

8

9

10

11

12

13

14

15

16

17

18

19

20

21

22

23

24

25

26

27

28

29

30

31

1

2
January 2021

| Sun | Mon | Tue | Wed | Thu | Fri | Sat |
| --- | --- | --- | --- | --- | --- | --- |
| 27 | 28 | 29 | 30 | 31 | 1 | 2 |
| 3 | 4 | 5 | 6 | 7 | 8 | 9 |
| 10 | 11 | 12 | 13 | 14 | 15 | 16 |
| 17 | 18 | 19 | 20 | 21 | 22 | 23 |
| 24 | 25 | 26 | 27 | 28 | 29 | 30 |
| 31 | 1 | 2 | 3 | 4 | 5 | 6 |
February 2021
Sun
Mon
Tue
Wed
Thu
Fri
Sat

31

1

2

3

4

5

6

7

8

9

10

11

12

13

14

15

16

17

18

19

20

21

22

23

24

25

26

27

28

1

2

3

4

5

6
March 2021
Sun
Mon
Tue
Wed
Thu
Fri
Sat

28

1

2

3

4

5

6

7

8

9

10

11

12

13

14

15

16

17

18

19

20

21

22

23

24

25

26

27

28

29

30

31

1

2

3
April 2021
Sun
Mon
Tue
Wed
Thu
Fri
Sat

28

29

30

31

1

2

3

4

5

6

7

8

9

10

11

12

13

14

15

16

17

18

19

20

21

22

23

24

25

26

27

28

29

30

1
May 2021

| Sun | Mon | Tue | Wed | Thu | Fri | Sat |
| --- | --- | --- | --- | --- | --- | --- |
| 25 | 26 | 27 | 28 | 29 | 30 | 1 |
| 2 | 3 | 4 | 5 | 6 | 7 | 8 |
| 9 | 10 | 11 | 12 | 13 | 14 | 15 |
| 16 | 17 | 18 | 19 | 20 | 21 | 22 |
| 23 | 24 | 25 | 26 | 27 | 28 | 29 |
| 30 | 31 | 1 | 2 | 3 | 4 | 5 |
June 2021
Sun
Mon
Tue
Wed
Thu
Fri
Sat

30

31

1

2

3

4

5

6

7

8

9

10

11

12

13

14

15

16

17

18

19

20

21

22

23

24

25

26

27

28

29

30

1

2

3
July 2021
Sun
Mon
Tue
Wed
Thu
Fri
Sat

27

28

29

30

1

2

3

4

5

6

7

8

9

10

11

12

13

14

15

16

17

18

19

20

21

22

23

24

25

26

27

28

29

30

31
August 2021
Sun
Mon
Tue
Wed
Thu
Fri
Sat

1

2

3

4

5

6

7

8

9

10

11

12

13

14

15

16

17

18

19

20

21

22

23

24

25

26

27

28

29

30

31

1

2

3

4
September 2021
Sun
Mon
Tue
Wed
Thu
Fri
Sat

29

30

31

1

2

3

4

5

6

7

8

9

10

11

12

13

14

15

16

17

18

19

20

21

22

23

24

25

26

27

28

29

30

1

2
October 2021

| Sun | Mon | Tue | Wed | Thu | Fri | Sat |
| --- | --- | --- | --- | --- | --- | --- |
| 26 | 27 | 28 | 29 | 30 | 1 | 2 |
| 3 | 4 | 5 | 6 | 7 | 8 | 9 |
| 10 | 11 | 12 | 13 | 14 | 15 | 16 |
| 17 | 18 | 19 | 20 | 21 | 22 | 23 |
| 24 | 25 | 26 | 27 | 28 | 29 | 30 |
| 31 | 1 | 2 | 3 | 4 | 5 | 6 |
November 2021
Sun
Mon
Tue
Wed
Thu
Fri
Sat

31

1

2

3

4

5

6

7

8

9

10

11

12

13

14

15

16

17

18

19

20

21

22

23

24

25

26

27

28

29

30

1

2

3

4
December 2021
Sun
Mon
Tue
Wed
Thu
Fri
Sat

28

29

30

1

2

3

4

5

6

7

8

9

10

11

12

13

14

15

16

17

18

19

20

21

22

23

24

25

26

27

28

29

30

31

1
January 2022

| Sun | Mon | Tue | Wed | Thu | Fri | Sat |
| --- | --- | --- | --- | --- | --- | --- |
| 26 | 27 | 28 | 29 | 30 | 31 | 1 |
| 2 | 3 | 4 | 5 | 6 | 7 | 8 |
| 9 | 10 | 11 | 12 | 13 | 14 | 15 |
| 16 | 17 | 18 | 19 | 20 | 21 | 22 |
| 23 | 24 | 25 | 26 | 27 | 28 | 29 |
| 30 | 31 | 1 | 2 | 3 | 4 | 5 |
February 2022
Sun
Mon
Tue
Wed
Thu
Fri
Sat

30

31

1

2

3

4

5

6

7

8

9

10

11

12

13

14

15

16

17

18

19

20

21

22

23

24

25

26

27

28

1

2

3

4

5
March 2022
Sun
Mon
Tue
Wed
Thu
Fri
Sat

27

28

1

2

3

4

5

6

7

8

9

10

11

12

13

14

15

16

17

18

19

20

21

22

23

24

25

26

27

28

29

30

31

1

2
April 2022
Sun
Mon
Tue
Wed
Thu
Fri
Sat

27

28

29

30

31

1

2

3

4

5

6

7

8

9

10

11

12

13

14

15

16

17

18

19

20

21

22

23

24

25

26

27

28

29

30
May 2022
Sun
Mon
Tue
Wed
Thu
Fri
Sat

1

2

3

4

5

6

7

8

9

10

11

12

13

14

15

16

17

18

19

20

21

22

23

24

25

26

27

28

29

30

31

1

2

3

4
June 2022
Sun
Mon
Tue
Wed
Thu
Fri
Sat

29

30

31

1

2

3

4

5

6

7

8

9

10

11

12

13

14

15

16

17

18

19

20

21

22

23

24

25

26

27

28

29

30

1

2
July 2022

| Sun | Mon | Tue | Wed | Thu | Fri | Sat |
| --- | --- | --- | --- | --- | --- | --- |
| 26 | 27 | 28 | 29 | 30 | 1 | 2 |
| 3 | 4 | 5 | 6 | 7 | 8 | 9 |
| 10 | 11 | 12 | 13 | 14 | 15 | 16 |
| 17 | 18 | 19 | 20 | 21 | 22 | 23 |
| 24 | 25 | 26 | 27 | 28 | 29 | 30 |
| 31 | 1 | 2 | 3 | 4 | 5 | 6 |
August 2022
Sun
Mon
Tue
Wed
Thu
Fri
Sat

31

1

2

3

4

5

6

7

8

9

10

11

12

13

14

15

16

17

18

19

20

21

22

23

24

25

26

27

28

29

30

31

1

2

3
September 2022
Sun
Mon
Tue
Wed
Thu
Fri
Sat

28

29

30

31

1

2

3

4

5

6

7

8

9

10

11

12

13

14

15

16

17

18

19

20

21

22

23

24

25

26

27

28

29

30

1
October 2022

| Sun | Mon | Tue | Wed | Thu | Fri | Sat |
| --- | --- | --- | --- | --- | --- | --- |
| 25 | 26 | 27 | 28 | 29 | 30 | 1 |
| 2 | 3 | 4 | 5 | 6 | 7 | 8 |
| 9 | 10 | 11 | 12 | 13 | 14 | 15 |
| 16 | 17 | 18 | 19 | 20 | 21 | 22 |
| 23 | 24 | 25 | 26 | 27 | 28 | 29 |
| 30 | 31 | 1 | 2 | 3 | 4 | 5 |
November 2022
Sun
Mon
Tue
Wed
Thu
Fri
Sat

30

31

1

2

3

4

5

6

7

8

9

10

11

12

13

14

15

16

17

18

19

20

21

22

23

24

25

26

27

28

29

30

1

2

3
December 2022
Sun
Mon
Tue
Wed
Thu
Fri
Sat

27

28

29

30

1

2

3

4

5

6

7

8

9

10

11

12

13

14

15

16

17

18

19

20

21

22

23

24

25

26

27

28

29

30

31
January 2023
Sun
Mon
Tue
Wed
Thu
Fri
Sat

1

2

3

4

5

6

7

8

9

10

11

12

13

14

15

16

17

18

19

20

21

22

23

24

25

26

27

28

29

30

31

1

2

3

4
February 2023
Sun
Mon
Tue
Wed
Thu
Fri
Sat

29

30

31

1

2

3

4

5

6

7

8

9

10

11

12

13

14

15

16

17

18

19

20

21

22

23

24

25

26

27

28

1

2

3

4
March 2023
Sun
Mon
Tue
Wed
Thu
Fri
Sat

26

27

28

1

2

3

4

5

6

7

8

9

10

11

12

13

14

15

16

17

18

19

20

21

22

23

24

25

26

27

28

29

30

31

1
Book your accomodation
Airport transfer on arrival
Airport transfer on departure
Airport transfer on arrival
Airport transfer on departure
0