Guardamar Villa Sal & Sol
Guardamar del Segura is 10 kilometers away from Torrevieja and La Mata on the Costa Blanca. Guardamar is a relatively quiet village but has all the ingredients that one might expect from a Spanish coastal town. Guardamar is a stone's throw from the famous Parque Natural de la Mata. Guardamar del Segura also has a 15 km long stretch of coastline with wonderfully fine sandy beaches. The most visited beaches are Playa Centro or Playa La Roqueta. Those who prefer deserted beaches will enjoy the Playa del Moncayo or the Playa de Los Tusales, at the mouth of the Segura. All beaches are perfectly equipped and equipped with the required facility. You can also take a walk through Park Reina Sofía with its beautiful water features, waterfalls and its long hiking trails from which you can admire the native native fauna and flora.
This beautiful villa consists of 2 floors and with a private swimming pool, has 3 bedrooms and 2 bathrooms with shower + shower facility. The villa is located in the Sal & Sol project in the beautiful green area of ​​El Raso in Guardamar. The ground floor has a modern furnished living room with air conditioning, TV with many international channels and fast WiFi via fiber optic cable. The modern open kitchen is equipped with all appliances including a dishwasher. On the first floor there is a bedroom with 1 x 2 sleeping places and an ensuite bathroom. On the second floor there are 2 bedrooms with 1 x 2 + 2 X 1 sleeping places and a bathroom with shower. From the master bedroom you have direct access to one of the terraces. The roof terrace is fully furnished and from here you have a beautiful view of the immediate surroundings. The garden and the terrace are furnished with a private swimming pool, table + chairs, parasol and a lounge set. You can park on your own property. Villa Sal & Sol is just 3 km from Moncayo Beach.
Extra information
Additional conditions for the use of electricity. The mentioned rental prices include energy, unless more than 100 Kwh of electricity is used per week. The extra consumption will be deducted from the deposit á € 0.25 per KWh. The key manager can give you an explanation on arrival. Special winter rates apply from November to March. For only € 250 per week you can enjoy a wonderful hibernate here for a period of 4 weeks or longer.
Key transfer
The key transfer is possible on any day of the week. You can move into your holiday home on the first day of stay between 2:00 PM and 8:00 PM. On the day of departure, you normally leave the home before 11:00 AM. In consultation with the manager, other times are possible. On your arrival and during your holiday, the managers can provide you with various services to make your holiday as easy as possible. They welcome you and do the key transfer with you personally and give you some useful tips about the nearby area. They are also the point of contact during your stay.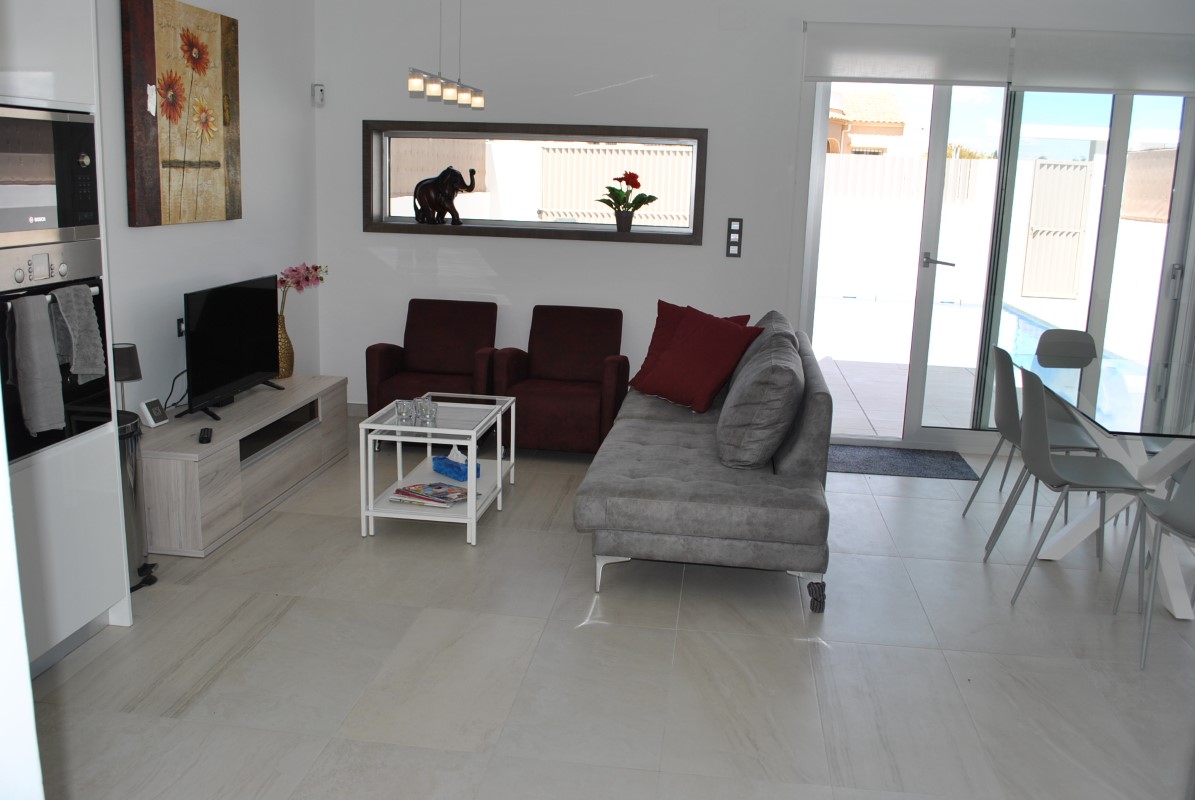 Rent this villa on the Costa Blanca in Guardamar..
Book your accomodation
More information
Facilities
Pre-installation air conditioning
Map
Prices
Prijzen en afstanden
April, May, June, September and October
Starting at 4 weeks. Electricity included*
Max. 6 persons. Basic price is 4 persons.
*See additional information
Book your accomodation
Airport transfer on arrival
Airport transfer on departure
Airport transfer on arrival
Airport transfer on departure
0